Quad Clock Distributor Expander Kit(QCD EXP Kit)
Build your own Quad Clock Distributor Expander, with the QCD EXP kit.
The Do-it-yourself kit includes all the parts necessary to build a fully-featured QCD EXP. This is an intermediate to advanced-level kit, so you should be experienced in soldering and have basic hand tools (flush snips, needle-nose pliers, small screw driver).
Basic features
Connects to QCD module with a 16-conductor ribbon cable (included)
More features are added to each QCD channel:

Multi-mode output jack INV OUT mirrors the tempo of main QCD output
Mode Switch for each INV OUT jack:

Delayed Trigger Mode
Inverted Gate Mode
Shuffle Mode (delayed + original trigger)

PW/Delay knob controls trigger delay time on INV OUT jack (or pulse width in Inverted Gate Mode)

Also controls Pulse Width of main QCD OUT jack
CV input jack for external control
Attenuverter allows for one channel to precisely modulate another channel's delay or pulse width

Div/Mult CV attenuator knob

Controls how much the signal on the main QCD's Div/Mult CV jack will modulate the tempo
Useful for precisely modulating the speed of one channel with another

Global LED brightness can be adjusted from the front panel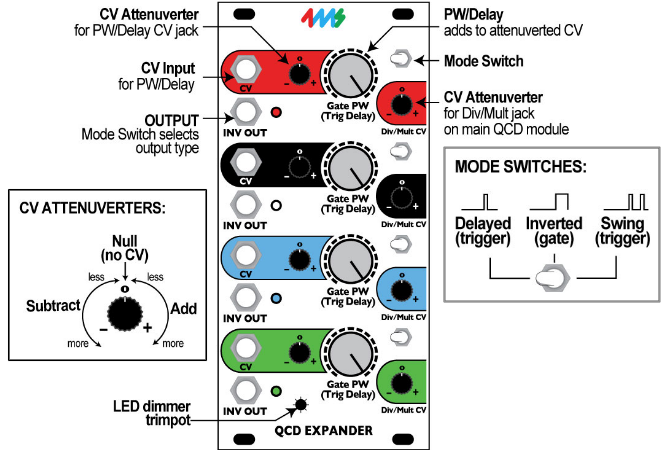 Module size:
The QCD Expander is 12HP and 0.98" (25mm) deep.
Four knobbed pots have a metal shaft and nut. Eight knobless pots are center-detent with white indicator line.
Power consumption:

+12V rail: 44mA max
+5V rail: not used
-12V rail: 30mA max
Manual
QCD Manual
QCD Manual - Japanese
QCD Expander Manual
QCD Expander Manual - Japanese
Video Manual (part 1):